Roivant Sciences Stock: Coming Nicely To Boil With Multiple Opportunities (NASDAQ:ROIV)
Investment Overview
Roivant Sciences (NASDAQ:ROIV) is a company I last covered in a note for Seeking Alpha back in December last year – I gave the company a "BUY" recommendation, and shares have risen in value by 28% since, to $9.2 at the time of writing. Market cap valuation is currently $7bn.
Roivant has a somewhat complicated business model – as explained in its Q3 2022 10Q submission:
We are a diverse team of experienced drug developers, scientists, physicians, company builders, data scientists and engineers, biopharma investors, physicists and business development professionals dedicated to improving the lives of patients.
We deploy a hypothesis-driven approach to identify novel or clinically-validated targets and biological pathways in areas of high unmet medical need. We then seek to acquire, in-license or discover promising drug candidates against those targets or pathways. Our small molecule discovery engine is powered by leading computational physics and machine learning ("ML") capabilities for in silico drug design.
We develop drugs and drug candidates in subsidiary companies we call "Vants" with a distinct approach to sourcing talent, aligning incentives and deploying technology. Our Vants continue to benefit from the support of the Roivant platform and technologies that are built to address inefficiencies in the drug discovery, development and commercialization process.
Here is a list of the "Vants" in full: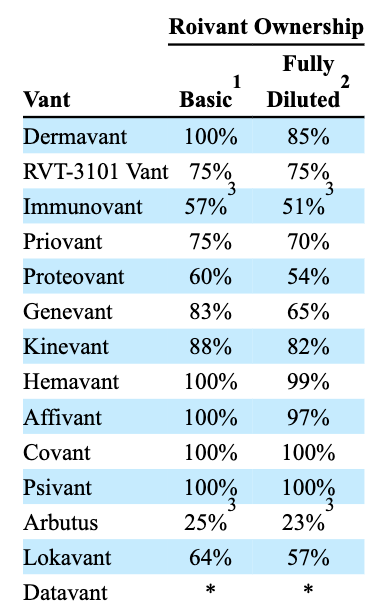 And, as I explained in my previous note:
Roivant joined the Nasdaq via a merger with the Special Purpose Acquisition Company ("SPAC") Montes Archimedes Acquisition Corp back in May 2021.
That merger netted Roivant ~$411m in funding and with a handful of notable biotech VCs – including SoftBank and Sumitomo Dainippon Pharma – also investing in a private round, Roivant began its publicly traded life with $2.3bn of funds.
Much of the additional funding was created by Roivant's sale of 5 of its subsidiary companies – Myovant, Urovant, Enzyvant, Altavant and Spirovant – to Sumitomo, the Japanese Pharma, in a $3bn deal plus a 10% equity stake in Roivant, and the opportunity for Sumitomo to purchase 6 more "vants" by the end of 2024.
In its Q3 2022 10Q submission, Roivant lists some of its key progress to date, including its first commercial launch – of VTAMA (tapinarof cream 1%) to treat plaque psoriasis in adults – conducting nine Phase 3 clinical studies, eight of which management says have been successful, the $3bn deal with Sumitomo, 6 FDA approvals for Vant developed drugs (4 of which had already been transferred to Sumitomo), the development of small molecule discovery engine Roivant Discovery, and the development of a "broad and differentiated" clinical pipeline.
Roivant breaks down its pipeline as follows: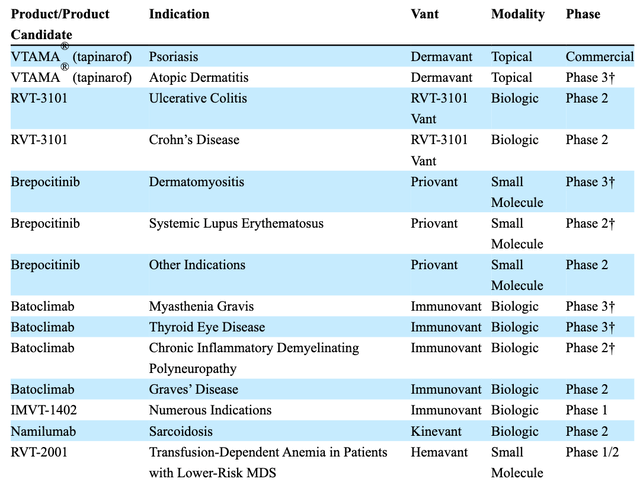 Roivant clinical stage pipeline (Roivant Q3 2022 10Q)
As we can see there are multiple late stage opportunities, in large and lucrative – albeit competitive – markets, where there remains a requirement for new and better drugs. Below, we can see data and approval catalysts related to each pipeline asset.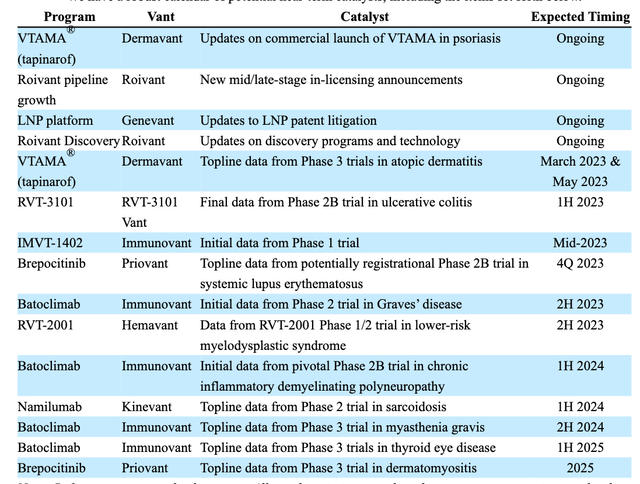 Since its listing, Roivant has managed to more or less maintain the value of its shares, despite a dip to a low of $3 at the height of the biotech bear market in September last year, across the last year the stock price is +140%.
The question is whether the current $7bn market cap fairly reflects the value Roivant may be capable of unlocking, and I will try to answer that in the remainder of this post by analysing the value of Roivant's various opportunities, and speculating about how each one could affect the overall company valuation.
Roivant – A $15bn Inflammation and Immunology Franchise In The Making? VTAMA Is A Great Start
According to a recent corporate presentation Roivant's ambition is to build a $15bn Inflammation and Immunology franchise
Let's begin with Roivant's recently approved VTAMA, a drug for which management are clearly excited about. The topical cream may have only generated revenues of $9.2m in fiscal Q3 2022 (reported in Feb '23) but that represented a doubling of revenues from the prior quarter when the product was launched, and VTAMA is now the number one branded topical, according to Roivant CEO Matthew Gline who expanded on the peak sales opportunity on the fiscal Q3 2022 earnings call:
This is really just the beginning for us, right? In the most recently disclosed IMS, we did about 3,800 scripts, which is a great number for this stage of our launch. But remember that even in psoriasis alone, there are 90,000 topical prescriptions every week, of which the vast majority are topical steroids. And once we get an atopic dermatitis state and have access to that patient population, there are a little over 300,000 atopic dermatitis prescriptions every week, again, the vast majority of which are topical steroids. And in psoriasis, our data conclusively, in our view, establishes us as both more efficacious with a remitted benefit than topical corticosteroids, as well as meaningfully safer and better tolerated.
The news on an approval in atopic dermatitis looks positive, based on the pivotal ADORING1 and ADORING2 trial data released in March and May.
Roivant announced that ADORING2 met its primary endpoint of Validated Investigator Global Assessment for Atopic Dermatitis (vIGA-ADTM) response of clear (0) or almost clear (1) with at least a 2-grade improvement from baseline in March, and backed that up with its May 17th announcement that:
ADORING 1 met the primary and all secondary endpoints, consistent with the positive topline results from the Phase 3 ADORING 2 trial reported in March, marking Roivant's 10th consecutive positive Phase 3 study since 2019.
45.4% of subjects receiving VTAMA achieved the primary endpoint of vIGA-AD response of clear (0) or almost clear (1) with at least a 2-grade improvement from baseline at Week 8, versus 13.9% on vehicle (P<0.0001)
All secondary endpoints were also met, and it seems as though a follow-on approval in AD is very likely, opening up a market opportunity management believes could be three times larger than Psoriasis.
Unlike many oral or injectable therapies – Amgen's (AMGN) Otezla, AbbVie's (ABBV) Humira – once the world's best-selling drug – and Bristol Myers Squibb's (BMY) recently approved Sotyktu – VTAMA was approved without any safety warnings, or contraindications, and compared to approved topical steroids, without any duration limitations or body surface limitations (according to a Roivant presentation).
Management believes that VTAMA could be a "potential blockbuster (>$1bn revenues per annum) topical in both psoriasis and AD, and given the AD market is 3x larger than psoriasis, perhaps the expectation is for $1bn in peak psoriasis sales and $3bn in AD.
Such figures certainly make the case for a higher company valuation based on VTAMA alone – for context, amongst pharmaceutical companies generating revenues of between $3bn – $4bn, Jazz Pharmaceuticals (JAZZ) has a market cap of ~$9bn, Horizon Therapeutics (HZNP) of $23bn, and Incyte Corporation (INCY) $14.8bn.
Incyte's Opzelura topical cream – approved in AD and vitiligo, and earning revenues of $129m in its first full year of sales last year – is likely Roivant's biggest competition.
Comparison between the 2 suggest that Opzelura may have a slight edge on efficacy, but Opzelura is a member of the janus kinase inhibitor class of drugs, which has long been associated with safety risks, meaning physicians could VTAMA – a therapeutic aryl hydrocarbon receptor ("AHR") modulating agent ("TAMA").
VTAMA also scored highly in itch reduction, which is a key consideration of eczema patients. Finally, Roivant intends to undercut Opzelura on price, as shown below in a slide outlining Roivant's launch ambitions.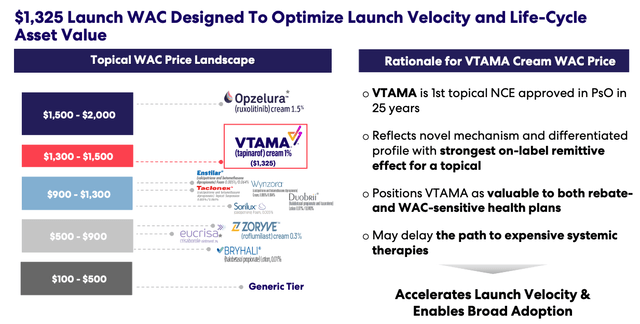 Pfizer Partnered RVT-1301 The Next Autoimmune Cab Off The Rank?
The next major data readout after the Phase 3 triumph for VTAMA in AD – which seemingly paves the way for a full approval in that indication – is for candidate RVT-1301 in Ulcerative Colitis.
RVT-1301 targets tumor necrosis factor-like ligand 1A ("TL1A") – a protein that inhibits B cell proliferation and helps effector B cells to maintain immune homeostasis, whose activity is linked to a variety of diseases, including Rheumatoid Arthritis, Asthma, and Systemic Lupus Erythamatosus ("SLE"), Roivant's research shows.
Pharma giant Pfizer (PFE) is a development partner on this program, hence the creation of a new 'Vant" or Roivant subsidiary in 2022 – as explained in a press release:
A new Vant or Roivant subsidiary has been created to develop and fund these programs. The Vant will be fully responsible for funding global development of RVT-3101 in UC and in additional inflammatory and fibrotic diseases and holds commercial rights in the US and Japan. Pfizer owns a 25% equity position in the Vant and maintains commercial rights outside of the US and Japan as well as representation on the company's Board of Directors.
The agreement also covers an option for the 2 companies to collaborate on development of a Phase 1 stage asset, with a 50/50 cost share, and co-commercialisation rights ahead of an expected Phase 2 study in 2025.
The consensus among some market watchers is that Roivant made an excellent deal by securing development rights for RVT-1301, which has demonstrated a safety and efficacy profile that looks approvable in markets that offer double-digit billion revenues opportunities for a best-in-class performer – witness the sales performance of e.g. Humira – >$20bn revenues in 2022, or Sanofi (SNY) / Regeneron's (REGN) Dupixent or Johnson & Johnson's Stelara, >$10bn revenues per annum each.
Recently, the Pharma giant Merck (MRK) acquired Prometheus Biosciences (RXDX) in a deal worth $10.8bn in order to gain access to its lead candidate PRA023, which has a similar mechanism of action ("MoA") to RVT-1301. It seems incredible that while Merck is paying double digit billions to gain access to one TL1A inhibitor, Pfizer is almost giving one away to its partner!
Final Phase 2 TUSCANY Study data is due this quarter, management has promised, although earlier readouts suggest endpoints will be met. According to Roivant's latest 10Q:
In the induction period of the TUSCANY-2 study, RVT-3101 demonstrated statistically significant and clinically meaningful efficacy at each dose tested. At the expected Phase 3 dose, 31% of patients achieved clinical remission (modified Mayo) (p=0.01, 20% delta compared to 12% placebo) and 40% of patients achieved endoscopic improvement (p=0.01, 22% delta compared to 19% placebo).
If RVT-1301 were to secure approval in UC, and perhaps break into other markets such as Crohn's Disease and IBD, and establish itself ahead of PRA023, which is seemingly winning the race to market at present, the rewards could run to $5bn in annual sales, it's been speculated, whilst even as a second or third line option, $2bn per annum could be on offer. These figures are consistent with currently marketed therapies, and so far at least Roivant's study data makes a decent case for a best-in-class safety and efficacy profile.
Roivant may need to complete a Phase 3 study which will likely take another 12 months, meaning Merck and PRA023 may establish a first mover advantage, but Pfizer is a powerful partner and could additionally agree to partner on the Phase 1 asset.
For context again, Pfizer paid $6.7bn in 2020 to acquire Arena Pharmaceuticals and its Phase 3 stage autoimmune asset Etrasimod, which Pfizer has guided to the point of approval. That is nearly equal to Roivant's current market valuation, but Roivant has 3 or 4 late stage assets whilst Arena had a greater dependence on Etrasimod.
2 More Phase 3 Stage Assets – Breproctinib and Batoclimab
In covering VTAMA and RVT-1301 we may have found a path to perhaps as much as $7.5bn of Roivant's target of $15bn+ in peak revenues. Could Breproctinib and Batoclimab provide the remaining $7.5bn?
Breproctinib data from a Phase 2B study is expected in 4Q23 – this is another asset licensed from Pfizer that the pharma giant felt was surplus to requirements although it retains a 25% stake in Priovant, the "Vant" developing this program.
Analysts have modelled for blockbuster sales for this drug targeting both TYK2 and JAK1, if approved, and the drug has recorded "statistically significant and clinically meaningful benefit in all five-placebo controlled studies completed to date", according to Roivant, across a range of autoimmune indications. As such, this drug looks like another apparent likelihood for approval and blockbuster sales. Lupus data and, further down the line, dermatomyositis data look like potentially positive price catalysts.
Meanwhile, Batoclimab is yet another intriguing prospect being an FcRn inhibitors – according to Neural Regeneration Research:
cRn inhibitors are anti-FcRn monoclonal antibodies with high affinity for FcRn at both neutral and acidic pH. Inside the cell, FcRn inhibitors compete with IgG for binding to FcRn. Because of their higher affinity, FcRn inhibitors prevent IgG from binding to FcRn, and IgG is transported to the lysosome and degraded, which leads to a decrease in circulating IgG levels.
Batoclimab is in a variety of late stage clinical studies – for Graves Disease, myasthenia gravis and thyroid eye disease, and although these key data readouts are more than a year away, once again the target markets are underserved and lucrative – witness the $2bn of revenues achieved by Horizon Therapeutics' (HZNP) Thyroid Eye Disease ("TED") therapy Tepezza last year – whilst current standards of care are susceptible to challenges on safety and efficacy.
Concluding Thoughts – Roivant's Pipeline & Products Suggest Blockbuster Revenues Await – & Perhaps Significantly More – A Strong, Albeit Higher Risk Investment Opportunity
Having taken a deeper dive look at Roivant's business model, products and pipeline, it's hard not to be impressed by the company's progress to date, especially given the disastrous failure of one of the early Vants, Axovant, which raised $315m to develop an Alzheimer's drug, but folded shortly after burning through its cash reserves.
Although management's target for >$15bn in revenues from its pipeline assets is a little high for my liking, the company already has what looks a blockbuster in waiting, VTAMA, on the market, and 3 further assets, in RVT-1301, batoclimab, and breproctinib that, based on clinical evidence to date, could win approval and potentially thrive in multi-billion dollar autoimmune markets.
As I pointed out earlier in this post, drug developers that drive blockbuster revenues from their approved assets are typically valued significantly higher than $7bn – Roivant's current valuation. A company with 3 approved blockbuster selling assets would likely garner a valuation of $25bn – $50bn, provided of course, it is either profitable or on a clear path to profitability.
Roivant made a net loss of $(845m) in 2022, and $(809m) in 2021 – and reported a cash position of $1.7bn as of September 2022, so perhaps the company's valuation is weighed down by its intensive cash burn. This could be Roivant's Achilles' heel, and it will be a huge challenge for management to transition from a company pouring billions into R&D into a commercial stage business attempting to drive a profit, but when we look at the pipeline opportunities in play, management must surely be given a fighting chance of success?
Investing in Roivant is unlikely to be for everyone, as there are multiple assets to keep an eye on, a constantly evolving and cash intensive drug development engine to maintain, and pipeline assets that may exhibit best-in-class efficacy and safety profiles, but must still overcome tricky data readouts and approval hurdles, as well as fierce competition in their target markets.
Nevertheless, after the catastrophic failure of Axovant, Roivant's "money-ball" style approach to identifying and pursuing opportunities in drug development appears to be finally paying dividends. As each opportunity progresses, I am expecting the share price to climb until Roivant achieves a double-digit-billion valuation, or share price of ~$13 per share – and that could be just the beginning of a longer bull run.